Crystal Window Films : Live in the Light!


What window film can do

- protect your glass against earthquake damage

- greatly reduce fading of your carpets, furnishings, and art
- control heat and glare
- give privacy
- upgrade ordinary glass to safety glass that meets building

regulations

- reduce condensation

What is window film?
Window film is an inexpensive, high-tech product applied to the inside

of your windows by our experts.


How will window film look?
Our clear films give a crystal-clear view. You'll see the benefits,

not the film.


We use the finest and most advanced films, matched to your place and

needs. They come with a lifetime guarantee.


Call Crystal Window Films any time - 0800 48 48 99

When you can reach us
Mon - Sat 8:00am - 6:00pm
Sun 10:00am - 6:00pm

We've been in business since 2003

We accept payment by
- Cash
- Personal cheques
- Direct credit (internet banking, phone banking)
- Financing by arrangement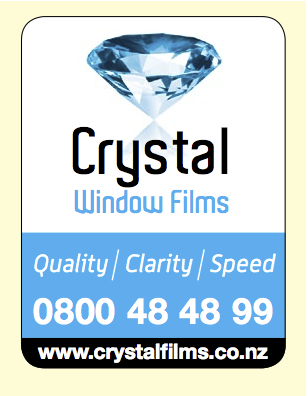 More about window film
Window film is an inexpensive, high-tech product applied to the inside of your windows by our experts.
Comfort and safety
Window film can do many things to make your home more comfortable. It can control heat and glare, provide complete privacy, limit condensation, and reduce the risk of breakage, quake damage, and burglary, while giving a crystal-clear view.
Our safety film will bring glass up to A-Grade safety standard under NZ building codes, even in older homes, at significantly lower cost than installing safety glass.
When you install window film. you reduce condensation. Your window glass stays warmer so your windows may fog, but they won't stream.